Drake Cromer-Moore faced a daunting challenge in 2021 when he became pastor of First Christian Church of Gainesville, Fla.
The church, founded in 1921, was down to eight active members – average age 75 – trying to support a costly campus in Gainesville. Yet Pastor Drake knew God was not finished with the congregation. A handful of changes resulted in growth to 30 members, but he knew more was needed.
Enter Meizon Mission, an independent congregation founded by Pastor Kevin Bruchert in late 2020 to welcome people who had historically been marginalized by churches.
Initially an online-only faith community, Meizon's leaders searched for a long-term place for in-person worship as more young families began participating.
Seeing the potential for synergy, mutual friends introduced the two, who quickly discovered they spoke the same theological language.
Pastor Drake was raised in a religiously conservative context. As an adult, he found the Christian Church (Disciples of Christ) provided a more inclusive theology for him and his husband.
Meanwhile, Pastor Kevin knew of Disciples but didn't know the theological fit.
"They were Disciples without knowing they were Disciples," says Pastor Drake.
Meizon ("greater" in Greek) sought to provide a more loving and graceful space where people could hear the good news of Jesus.
"We don't want to just talk about racial issues and empowering women in church leadership," Pastor Kevin says. "We want to lead by example."
Meizon's approach appealed to many Millennials, Gen Xers, and young adults who felt disenfranchised by the events of 2020. Meizon had grown to more than 60 worshipers by the time the pastors met.
Pastor Drake was eager to work with Pastor Kevin and his flock. The invitation to Meizon to move into FCC's building was formalized in Easter 2022.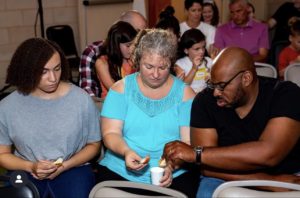 But both pastors saw promise in more than just sharing space. They felt the congregations would be stronger by merging.
Meizon started the process to become a Disciples "congregation in formation" in the Florida Region with the help of Regional Minister Rev. Sandy Messick. Meanwhile, Pastor Drake sat down with his members for hard conversations about governance and structural shifts.
Both communities learned from one another: Meizon flourished with the stability of a permanent location; FCC gained strength in a deeper understanding of their Disciples identity.
In mid-April 2023, FCC voted to adopt a merger plan with Meizon, effective Jan. 9, 2024.
"Everything that has happened feels like such a good fit," says Pastor Kevin.
Your gifts to Disciples Church Extension Fund's New Ways into the World endowment campaign help innovative new faith communities thrive. Choose from various ways to give.