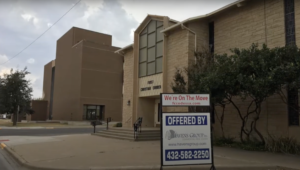 In 2014, First Christian Church (FCC), Odessa, Texas, was literally in a bad place. Membership was down. The building had significant accessibility issues and was hidden from view behind another church.
Without transformation, the congregation would perish.
So, First Christian Church called a clergy couple, Pastors Dawn and Joe Weaks, who, with the support of Disciples Church Extension Fund (DCEF), ushered in new ideas to turn things around.
Dawn and Joe had worked with DCEF before and recognized the value of their ministry assessment service. So, they reconnected with DCEF leaders to help the congregation make a bold new decision: relocation.
After considerable discernment and indecision, the congregation's leaders stepped out in faith. On the Sunday after Easter 2017, the congregation voted to sell their building and buy a medical office building in another location.
"The Resurrection season was particularly palpable" that year, Dawn said.
FCC's newly purchased building proved more accessible and offered high visibility to the community. They returned to DCEF for a renovation loan to repurpose the building.
"Taking out a loan from DCEF allowed us to borrow money that we felt good about, money that is invested for ministry," she said. "It helped us feel like we weren't doing this crazy thing alone."
On Palm Sunday of 2019, they moved into their new home and took on a new name, Connection Christian Church (CCC), with the motto "connecting you to Christ and community."
The move came just as the world shut down due to COVID-19. Taking advantage of their state's warm climate and their property's new parking lot, they offered outdoor "parking lot church." CCC set up a radio frequency to broadcast their worship service. Drivers tuned in from car radios. The "low-risk" worship style grew CCC's membership – growth that continued even after they moved indoors.
In addition, the church offered nonprofit organizations low-cost space in their building,
expanding the ministry and providing an income stream to augment offerings.
Today, it's hard to imagine this faith community's last chapter in ministry, hidden behind a neighboring building. These days, Connection Christian Church is in a very good place.
Your gifts to Disciples Church Extension Fund's New Ways into the World endowment campaign help churches like Connection Christian Church turn the corner in ministry. Choose from various ways to give.